MoveUP is the union representing non-faculty and non-management workers at Capilano University.  MoveUP has represented support and administrative staff at Capilano University since 1974.
The strike is mainly about a single issue: a fair appeal process when the administration denies telecommuting arrangements. This is not about staff claiming a right to choose when to work from home. It is about our staff colleagues being able to bring unreasonable decisions to a labour arbitrator chosen mutually by the administration and union.
More recently, the University bargaining team, unlike other public sector employers, has taken the position that staff wage increases won't be retroactive. This is not the norm and would need to be addressed before pickets are lifted. These are the main outstanding issues.
MoveUP negotiations are at impasse.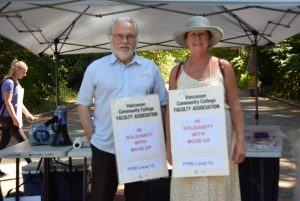 Frank and Taryn attended the Move Up job action at Capilano University, on July 19th, 2023.